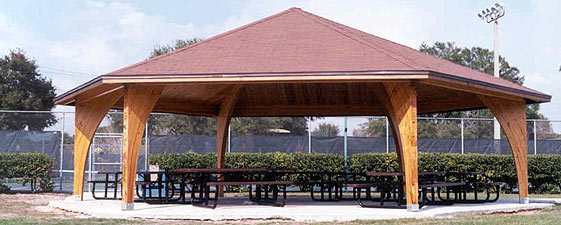 THE LOUISVILLE
THE LOUISVILLE shelter's hexagon design utilizes glulam arches and purlins of Southern Yellow Pine, making it one of the most attractive wood shelters in the marketplace. It has strong aesthetics and is ideal for those seeking high visual impact, The standard package features a 5:12 roof pitch design, and interior wood roof decking. The Louisville has a charming character, both from the outside as well as from the view underneath.
The Louisville shelter package can be ordered with added options: metal roof, cupolas, benches, rails, hand stain. The Louisville is available in 6 standard sizes with custom sizes also available.
Specification Sheet (PDF)
|
Photo Gallery
SHELTER SIZE
The Louisville shelter forms a hexagon and the size of the shelter refers to the distance across the shelter along the hip arch line which would be: the corner to corner width. For example, a 40' Louisville shelter measures 40' corner to corner of the roof. Custom sizes are also available.
THE LOUISVILLE PACKAGE COMPONENTS
ARCHES:
Surface mounted pressure treated, prior to gluing, laminated wood arches. Lumber is treated prior to gluing which affords full penetration of the core of the arches. Steel base shoes and bolts attach the base of each arch to the concrete.
BEAMS:
Laminated perimeter beams and the interior purlins. Steel connections and bolts that connect the beams to the arches.
ROOF DECK:
2x6 or 2x8" (nominal sizes) #1 grade, Southern Yellow Pine wood decking, tongue and groove is nailed to the top of the beams. Galvanized nails to attach the deck to the beams.
NAILERS:
2x2" nominal nailers to be attached to the roof deck at the eave. The fascia is nailed to the deck and the nailer. Galvanized nails to attach the nailers to the deck.
FASCIA:
2x6" pressure treated, #1 grade, Southern Yellow Pine, fascia board to be attached at the eaves Galvanized nails to attach the fascia to the beam ends and the deck.
FELT & SHINGLES:
One layer of #30 roofing felt to be applied on top of the wood deck. 25 yr. 3-Tab fiberglass shingles, standard color Autumn Brown, other color options available upon request.
---
ROOF PITCH
The standard roof pitch for the Louisville is a 5:12 pitch.
DESIGN LOADS
The typical design load allows for:

12 pounds per square foot dead load
30 pounds per square foot live load
20 pounds per square foot wind load. (Equates to 100 MPH)
There are variables that affect the design sizes of the members, specifically the columns and the curved beams, and those variables generally include live load conditions that are usually location specific. Building Codes normally dictate the applicable loads to be applied in the member size designs.
PRESSURE PRESERVATIVE TREATMENT
As noted in the component list above, the wood arches are fabricated with lumber pressure treated (prior to gluing) with CCA retention for "ground contact"). Fascia boards are treated with MCA/CCA. All treatment per AITC 109.
The treated Glulan can be stained or painted.
FOR DETAILED SPECIFICATIONS, PLEASE CLICK ON THE SPECIFICATION LINK
Custom Sizes & Designs Available
Standard Shelter Sizes Available
Roof Framing - 50' Louisville