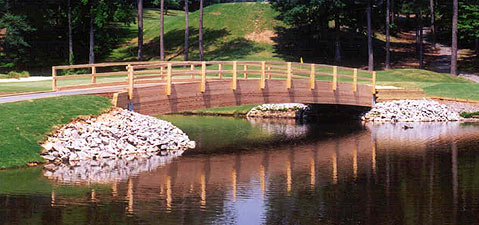 PEDESTRIAN AND LIGHT VEHICULAR BRIDGES
EnWood Structures' pedestrian, golf, and light vehicular glulam girder style bridges are favored for their architectural design, low maintenance, and long term cost-effectiveness. Although custom designs are always available, most often customers select one of EnWood's very popular pre-fabricated bridge designs: The WOODLAND, The FAIRWAY, or The PARK.
Clear spans for these models can be 100', with the full span virtually unlimited. Bridge width, length, load, and rail systems will be engineered as per project requirements, and many bridges can be shipped fully assembled, saving costly on-site job labor costs.
The WOODLAND is most often selected for pedestrian traffic. The exterior stringers are positioned to allow the bridge deck to be attached to the top of the stringers. A variety of rail and picket designs are available for the Woodland bridge design.
The FAIRWAY is typically used for light vehicular applications. The exterior stringers are raised slightly higher than the bridge deck which allows this exposed portion of the stringers to serve as a "curb" for traffic, such as golf carts, equipment, and smaller vehicles. Rail and picket designs are also available for the Fairway bridge.
The PARK, the third model of EnWood's Girder Type bridge system, is most often selected for applications where the distance between the approach elevation, and the bridge support elevation, needs to be minimal; thereby allowing more clearance under the bridge.
BRIDGE COMPONENTS
Bridges are constructed of #1 grade, kiln dried, Southern Yellow Pine for strength and durability.
All wood components are glued laminated wood beams with the exception of the floor deck and the pickets.
All glulam components are pressure treated, prior to gluing, with Penta Type C. Exterior stringers are treated at .6 pcf or .3 pcf, and all other glulam components and pickets are treated at .3 pcf. In accordance with AWPA and AITC 109 Standards
Solid sawn wood decking is pressure treated in accordance with AWPA.
All steel connectors are hot-dipped, galvanized.
Quality is as per the strictest guidelines of The American Institute of Timber Construction (AITC)
Woodland Specification Sheet (PDF)
|
Fairway Specification Sheet (PDF)
|
Park Specification Sheet (PDF)