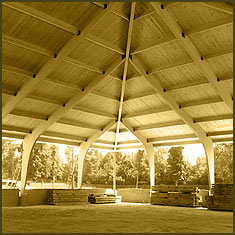 PARTNERING WITH THE EQUESTRIAN INDUSTRY
EnWood Structures is proud of it partnership with some of the finest names in the equestrian industry. EnWood's ability to design, engineer, and manufacture laminated wood structures for riding arenas as well as covers for exercise equipment has grown over the years. Designers and clients turn to EnWood Structures for our expertise in all stages of developing and delivering the quality, craftsmanship, and service they expect with every project.
Riding arenas are custom sized to specifically fit each client's requirements, with engineered structures to 100' in width. Lengths are unlimited. The design can comprise laminated wood columns and curved tapered beams, or laminated wood arches, both with EnWood's traditional tongue and groove decking for finishing the quality look.
Multi sided structures for covering exercise equipment are precisely engineered to mirror each client's equipment and requirement. These laminated wood
structures combine the beauty, the versatility, and the strength of laminated wood. Past projects have included structures as large as 16 sides and 80' in diameter with no center support posts. Call us to discuss your project requirements.