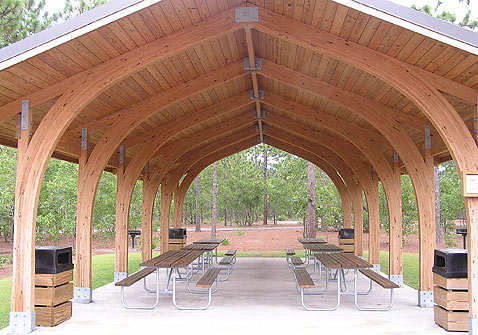 YOUR 1ST CHOICE FOR LAMINATED WOOD SHELTERS
AND LAMINATED WOOD PAVILIONS
park shelters
recreational pavilions
picnic shelters
playground shelters
gazebos
park pavilions
amphitheaters
stage covers
arbors
pergolas
ENWOOD STRUCTURES offers the customer laminated wood shelters, laminated wood pavilions, and laminated wood amphitheaters with Custom Shelter Designs and the EnWood Design Collection.
Glued laminated structural members are made of kiln dried #1 grade, Southern Yellow Pine, and treated components are treated prior to lamination for maximum strength and protection against the elements.
An added advantage is that most shelter and pavilion models can easily be partially or fully enclosed, for dual use as restrooms, concession centers, storage or administrative facilities.
EnWood is in association with a charter member of the American Institute of Timber Construction, AITC, whose manufacturing standards are the highest manufacturing standards in the laminated wood industry.
CUSTOM DESIGNED LAMINATED WOOD SHELTERS , GAZEBOS, AND PAVILIONS
EnWood has a sound reputation in the marketplace for quality, custom designed shelters and pavilions. Our custom designed shelters are specifically tailored to your unique and special requirements, and engineered and manufactured to facilitate the most challenging projects. Experience, quality, craftsmanship, are all integral components of EnWood's custom shelters, gazebos, and pavilions.
A full set of signed and sealed engineered drawings is included with shelter orders.
CLICK HERE for additional information and a photo gallery for our Custom Shelter Division.
---
THE ENWOOD LAMINATED WOOD SHELTER DESIGN COLLECTION
EnWood Structures offers the customer numerous pre-fabricated shelter models as pictured below, with each available in a large range of sizes. The pre-fabricated shelter packages are shipped to the job-site ready for fast and cost-effective installation. Shelter packages are competitively priced, and offer exceptional durability. Shelter packages are shipped complete: including roofing materials, connecting hardware, and engineered drawings.
The shelter packages are also offered with numerous options such as: metal roofs, steel columns either galvanized or powder coated, staining, safety rails, benches, wood deck floors, cupolas, hip roofs, and more are available for most models.
A full set of signed and sealed engineered drawings is included with shelter orders.