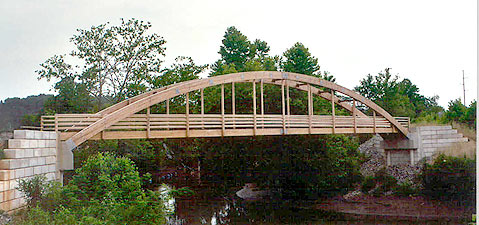 ARCH SUSPENSION BRIDGES
EnWood Structures' Arch Suspension Bridges are exceptionally multi functional and can be engineered for pedestrian, golf, light vehicular or vehicular loading. Each arch suspension bridge project is specifically tailored to the client's exact specifications for load, width and for lengths up to 200'.
An EnWood glued laminated arch suspension bridge offers an aesthetically pleasing solution for longer clear span projects not available with a girder style bridge design. Often structural components for an arch suspension bridge are smaller in size and shorter in length, thus facilitating ease with on-site assembly.
EnWood's technical and design team comprises many of the best experts in the bridge industry and with a staff steeped with years of expertise, our clients have the assurance of quality and service with every stage of their bridge project.
Why an ENWOOD STRUCTURES' Arch Suspension Bridge?
Clear span ability to 200'
Structural components are smaller in size for ease in transporting, and efficiency with assembly
All wood and steel components are pre-fabricated
On-site assembly efficient and cost effective
Full design and engineering assistance by registered and experienced engineers
Aesthetic, creative, and innovative design capabilities
Excellent impact load characteristics
High resistance to deicing chemicals
Over 70 years of experience in manufacturing and designing bridges
Bridge Specification Sheet (PDF)