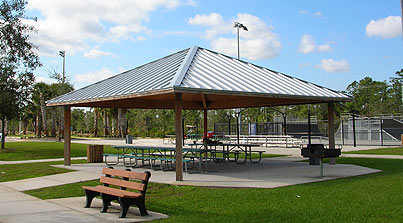 THE TIMBERLAND
THE TIMBERLAND laminated wood shelter is economical, functional and attractive. Its simple design allows for great cost savings. Its broad open sides and no center support post afford unobstructed space. And, the beauty of laminated Southern Yellow Pine gives this shelter its natural beauty.
The Timberland is available in 7 standard sizes and features an impressive 6:12 pitch roof. The unique engineered design eliminates the need for a center support column.
The Timberland, like the Magnolia shelter, is often sold in "clusters" with several large and small shelters placed in close proximity, for facilitating both large and small groups in the same recreational area.
The Timberland shelter package can be ordered with many distinctive options: metal roof, cupola, steel columns and surface mounted columns.
SHELTER SIZE
The Timberland shelter forms a square and the size of the Timberland refers to the distance across and given side of the square, measured along the eave line. For example, a 28' Timberland measures 28' x 28' square. Custom sizes are also available.
THE TIMBERLAND PACKAGE COMPONENTS

COLUMNS
Pressure treated, prior to gluing, laminated wood columns, 11' 9" long -- to be embedded 3' 9" in the concrete for stability. The lumber is treated prior to gluing which affords full penetration of the core of the columns. Special 4" annular nails to be "partially nailed" into the portion of the columns embedded in the concrete footings to provide improved anchorage against wind uplift.


BEAMS
Laminated wood hip beams, perimeter beams, and the interior purlin ring beams. Steel connections and bolts that connect the beams to each other and to the columns.
ROOF DECK
2x6 or 2x8 (nominal sizes) #1 grade, Southern Yellow Pine wood decking (tongue and groove) EV1S(edge use one side) is nailed to the top of the beams. Galvanized nails to attach the deck to the beams.
NAILERS
2 x 2 nominal nailers to be attached (nailed) to the roof deck at the eave. The fascia is nailed to the deck and the nailer. Galvanized nails to attach the nailers to the deck.

FASCIA
2x6 pressure treated, #1 grade, Southern Yellow Pine, fascia board to be attached at the eaves Galvanized nails to attach the fascia to the beam ends and the deck.

FELT & SHINGLES
One layer of #30 roofing felt to be applied on top of the wood deck. 25 yr. 3-Tab fiberglass shingles, standard color Autumn Brown, other color options available upon request.

ROOF PITCH
The standard roof pitch for the Timberland is a 6/12 pitch.

DESIGN LOADS
The typical design load allows for:
12 pounds per square foot dead load
30 pounds per square foot live load
20 pounds per square foot wind load. (Equates to 100 MPH)

There are variables that affect the design sizes of the members, specifically the columns and the beams, and those variables generally include live load conditions which are usually location specific. Building Codes usually dictate the applicable loads to be applied in the member size designs.

PRESSURE PRESERVATIVE TREATMENT
As noted in the component list above, the wood columns are fabricated with lumber pressure treated (prior to gluing) with CCA at .6 pcf [6 tenths of a pound of preservative per cubic foot of wood] retention for "ground contact").Where the treated member is not in ground contact, the treatment retention is .3 pcf. Fascia boards are treated with pentachlorophenol, and the .3 pcf retention is used. EnWood utilizes the pentachlorophenol treatment because of its premier qualities and the treatment does not discolor the wood and can be stained or painted.


Standard Shelter Sizes Available
12' 15' 20' 24' 28' 36'

Custom Sizes & Designs Available

Suggested Column Embedment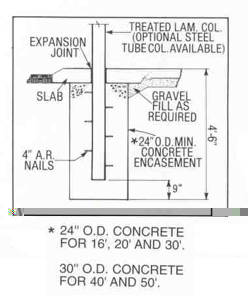 Roof Framing - 28' Timberland