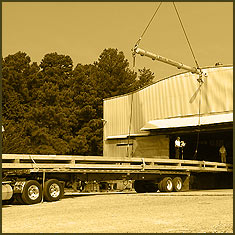 THE HISTORY AND TRADITION OF ENWOOD STRUCTURES
ENWOOD STRUCTURES' rich history in the laminated wood industry spans over 70 years. An early pioneer in the art and technology of pre-engineered laminated wood products, EnWood Structures continues to be a frontrunner in the industry. Throughout the years EnWood has won national awards for design and manufacturing expertise, including the prestigious National Timber Bridge Association Merit Award.
Architects, engineers, and designers call upon EnWood's staff for technical consultation. EnWood's staff includes design and technical experts highly respected in the marketplace for the depth of their product knowledge and their seasoned tenure. Having staff members with 30 plus years personal experience in the industry is the foundation of this company.
EnWood's custom design division supports designers with even the most complex and challenging projects. For decades EnWood has partnered with talented designers to develop custom shelters, pavilions, bridges, and architectural beams for customers with special and unique requests.
EnWood Structures is solidly committed to superior quality product. EnWood must subscribe to the highest manufacturing standards set in the industry. EnWood's customers value these high manufacturing standards and feel confident and assured that quality product is delivered.
We are here to assist, to teach, to support, and to make each project a huge success.
THE ENWOOD STRUCTURES TRADITION
ENWOOD STRUCTURES' history extends to over 70 years of design and manufacturing superior quality laminated wood products, offering the client pre-fabricated design models with the EnWood Design Collections, as well as a full service Custom Design division.
EnWood's glulam product divisions include:
LAMINATED WOOD ARCHITECTURAL BEAMS
LAMINATED WOOD SHELTERS, PAVILIONS, GAZEBOS, AMPHITHEATERS
EQUESTRIAN and RIDING ARENAS
PERGOLAS and ARBORS
LAMINATED WOOD PEDESTRIAN, GREENWAY, GOLF, and VEHICULAR BRIDGES
LAMINATED WOOD LIGHT RISERS
The EnWood benchmark is quality product, customer service, and competitive pricing, and our pride is our highly experienced staff and the awards they have received, including The National Timber Bridge Merit Award.