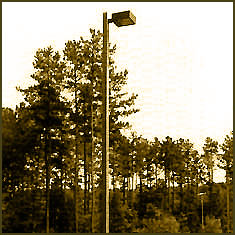 ENWOOD STRUCTURES' laminated wood lighting standards have exceptional durability, and are manufactured for long term service. The Southern Yellow Pine is protected from the elements by pressure treating the wood without interfering with the wood's inherent beauty. Laminated pressure-treated wood construction provides long term resistance against insect attack and decay. Protective treatments include both Penta and CCA. The poles will not rust, oxidize, corrode, tarnish or spall.
Above ground mounting heights range from 8 to 30 feet. Poles are lightweight and easy to handle, and can be embedded directly into the ground. Installation is quick and inexpensive. Raceways for underground wiring are easily reached through a below-grade access hole. Factory-applied stains are optional.
Manufacturing is done in accordance with ANSI National Standard A190.1 Latest Edition, and preservative treatment being in accordance with AWPA.
Wherever outdoor lighting is needed, whether it be single home developments, apartment or townhouse complexes, commercial shopping centers or office building parking areas, city parks and streets or industrial and recreation developments, laminated wood lighting standards will add light and beauty to the environment.